Welcome.
News and some offers for our followers.
TULARE is written – finally. Our longest book yet, it has gone to the editors. The events planned around it have moved from summer to fall. We will keep you apprised. Meanwhile, the Western Author Party & Signing is scheduled for Saturday, August 20* from three to six pm. Fellow author Wanda Snow Porter will join me at the BEDFORD WINERY on Bell Street, Los Alamos, CA. Here's your chance to fill in your backlist, purchase our newest books at discount prices, get books signed, and possibly even grab some prizes. See you there! *Please note date changes from previous notice.
GREAT NEWS! "JOHNNY AND THE COMANCHE" is now available in paperback. Own it and shelve it! Also, "The Curse Of Matilija", the Audio book, is now available at Amazon, Audible, and ACX. Here's a sample: https://soundcloud.com/richard-gamble-291888069/curse?utm_source=clipboard&utm_medium=text&utm_campaign=social_sharing
Our last FREE offering, JOHNNY ALIAS SADDLEBAG, resulted in over one thousand free books! Currently Saddlebag boasts 17 ratings averaging 4.8 stars! We hope this showing will kick off good sales for the infant series. Check the Bulletin Board for our next FREE selection.
JOHNNY AND THE COMANCHE, our newest Johnny Alias novel, has earned its first several ratings on Amazon, all five stars! You can purchase your copy here. A little history, a lot of excitement when Johnny ends up between the Buffalo Soldiers and the Comanche on the Llano Estacado. A deeply entertaining story for all ages.
We have given away more than 1400 copies of "The Curse Of Matilija"!
LOST OASIS WINS SILVER! Another book from our Zack Tolliver, FBI, series was selected for a prize in the annual Readers Favorite International Book Contest 2021. LOST OASIS took second place in the category Fiction-Mystery-Murder. Check out the results here.
The Curse Of Matilija is now available in paperback. It's time to add Zack Tolliver, FBI #9 to your shelf collection. It's one of the best covers from Krystalynn Designs, in my humble opinion.
Announcing a new blog and a blog guest appearance! The new blog is called "Old Men Talkin' History" and is comprised of the historic ramblings of this author and my colleague Merle Blasjo from our research into North Santa Barbara County for a distant book (which seems to get more distant every year!). To learn more, go to https://oldmentalkinhistory.com.
The blog guest appearance is an excerpt from LOST OASIS appearing in the STRAND MAGAZINE summer edition blog right now https://strandmag.com/lost-oasis-zack-tolliver-fbi-8-by-r-lawson-gamble/ (yes, where A. Conan Doyle first serialized his Sherlock Holmes stories!)
THE CURSE OF MATILIJA continues to sell in the top 100 in Native American Literature on Amazon right now! The price is a reasonable $3.99.
We are excited to announce that the first book in the Zack Tolliver, FBI series, THE OTHER, (El Otro)has been translated into Spanish by Vanesa Gómez Paniza. The work is available at many stores and on many distributing platforms, including Apple, Kobo, and Barnes & Noble, among others.
WE HAVE GIVEN AWAY NEARLY 8000 BOOKS in the past two months! We love that readers love Zack and Eagle Feather! We'll keep giving 'em away if you keep reading 'em!
On our FREE CAT SATURDAY we gave away 1850 CAT ebooks and counting, carrying it to #57 overall of free books offered on Amazon that day. It is now back to its normal price of $4.99 right here on Amazon. On our MEMORIAL WEEKEND FREE MESTACLOCAN AND FREE UNDER DESERT SAND days we gave away 1750 books!
KRISTALYNN DESIGNS has once again done a wonderful job for us with this beautiful and truly representative cover art.
SPECIAL OFFER! Want a FREE audiobook of LOST OASIS narrated by Louis B. Jack? Send proof of purchase for any Zack Tolliver, FBI series novel purchased in April 2021 to rlawsongamble@gmail.com and I will send one to you (as long as supplies last!).
3250 free copies of LOST OASIS were claimed on Amazon in a SINGLE DAY! Book number #2 in the series, MESTACLOCAN, has been reduced in price to $3.99, a bargain for one of our best sellers. We want people to engage in the series, confident all will be glad they did, while saving $$. Look for more savings as the month goes on. And get ready for the next Zack Tolliver adventure, coming later this Spring!
MISSING A BOOK from the Zack Tolliver, FBI series? Find it at Amazon on the series page.
Hope you didn't miss out on the LOST OASIS FREE DAY at amazon.com/author/rlawsongamble. Don't worry if you did – we'll be offering more free books soon!
Book #2 in Johnny Alias, our new Western Series, is now available at Amazon.com.
JOHNNY AND THE PREACHER is a whole new tale with Johnny the young gunfighter attempting to outrun his past but becoming entangled by his sense of justice and fairness – and his quick draw. The book follows JOHNNY AND THE KID, 300 copies of which flew off the shelves on a recent free event on Amazon. Go to R Lawson Gamble's page on Amazon to order your copy, due November 1.
Number 1 on Amazon's New & Hot list for many days after publication, LOST OASIS is the 8th novel in the ZACK TOLLIVER, FBI, series. "Lost Oasis is the most intense and dazzling Zack Tolliver book so far, and they're all thrilling well-researched mysteries!" says an Amazon reviewer.
Modern science and high technology come up against deeply rooted cultures and ancient rituals in this Zack Tolliver, FBI, story where the Eagle Mountains are surrounded by the goblin rocks and barren flats of Joshua Tree National Park. A world-class scientist goes missing while consulting for a design team constructing a huge electric storage battery from the deserted pits of the old Kaiser Iron mines. Did this eccentric world-renown hydrologist simply wander off? Or was his fate more ominous? The project moves ahead, but FBI Supervisory Agent Janice Hooper asks Zack to take a look. When someone plants a bomb in his Jeep the day he arrives, Zack realizes there is something more at stake. Soon he finds himself in a desperate duel with an unknown assassin who may very well be more than his match.
LOST OASIS is now available on Amazon.com. Purchase it HERE.
R Lawson Gamble's guest appearance on the "It's A Mystery Podcast" is now available at alexandramor.com. The author reads selections from THE DARK ROAD, the prequel novel to his Zack Tolliver, FBI, series and talks about himself as a writer with hostess Alexandra Amor.
Follow the link below to the May 5 article on the R Lawson Gamble's new western JOHNNY AND THE KID, by reporter Pamela Dozier.
https://www.santaynezvalleystar.com/local-author-starts-new-western-series
In our latest ad for JOHNNY AND THE KID on FaceBook, we had 1,192 engagements, 823 likes, 53 shares, and 5 comments (all good!). Why don't you give it a read?
JOHNNY AND THE KID is now available in paperback as well as Ebook. We know you'll enjoy it in either format – or both!
JOHNNY AND THE KID, an Old Time Western is selling well. The novel is pure entertainment modeled after the author's all-time favorite western stories from L'Amour, Flynn, Leonard, McMurtry, et al. Smoking six guns and hard riding cowboys – what's not to love? PURCHASE YOUR COPY HERE.
Here's what READERS' FAVORITE editor Fiona wrote about JOHNY AND THE KID: "This is an excellent story, and I enjoyed it tremendously. The character development is so well done that it's as if Johnny was sitting in my living room telling the story. The plots and subplots are wonderful. I love the who's who that kept the suspense heightened. It's the best book I've read this year. Well done!"
Exciting News! CANAAN'S SECRET took Bronze in the READER'S FAVORITE INTERNATIONAL BOOK AWARD CONTEST 2019, announced September 1, in the category FICTION/MYSTERY/MURDER. Big award ceremony scheduled in Miami on November 17 during the Miami International Book Fair. We are very proud of Zack!
LAS CRUCES, Zack Tolliver, FBI book #7 is available at Amazon.com. The paperback version is also now available! Get yours now.
LAS CRUCES is a riveting story springing from an actual cruel and ironic incident that ended the lives of two American pioneers whose adventurous careers constitute a book in itself. Perhaps we'll write it one day.

Old News
☛R Lawson Gamble was a featured author at "An Evening With Authors"
TALLEY VINEYARDS SUNDAY SEPTEMBER 8, 2019 5:30 – 7:30PM
☛On Sunday, September 22 at 11 AM R Lawson Gamble read excerpts from ZACA at (yes) ZACA MESA WINERY (here). We were in the shade of the tree in front of the barn opened by the special Country & Western sound of Buddy C. Everyone enjoyed the 2015 Zaca Mesa Syrah and listened to the author read from his own book while the breezes stirred our imaginations.
☛On September 27 the author was in Great Falls, Montana for the James Ersfeld Symposium on the art of writing the American West. The panels took place in the C.M. Russell Museum (what better place?).
If you haven't visited in a while you will notice a new page and new feature, Trail Running. I enjoy learning about the areas I visit by running the trails I often find there. One can gain an intimate sense of the locality this way. I will update the page with additional photos and brief notes from time to time. I'd love your comments/observations on the photos.
Our own local Art-Deco hostelry, the Skyview, has ordered another 40 Los Alamos Valley books from us. I love the way this establishment is integrating with the town of Los Alamos. You can borrow a bicycle to ride down the hill into town and read all about the historic buildings (don't do both at the same time).
We are also supplying Los Alamos Valley to the Depot Mall. It is prominently displayed at the cashier's counter.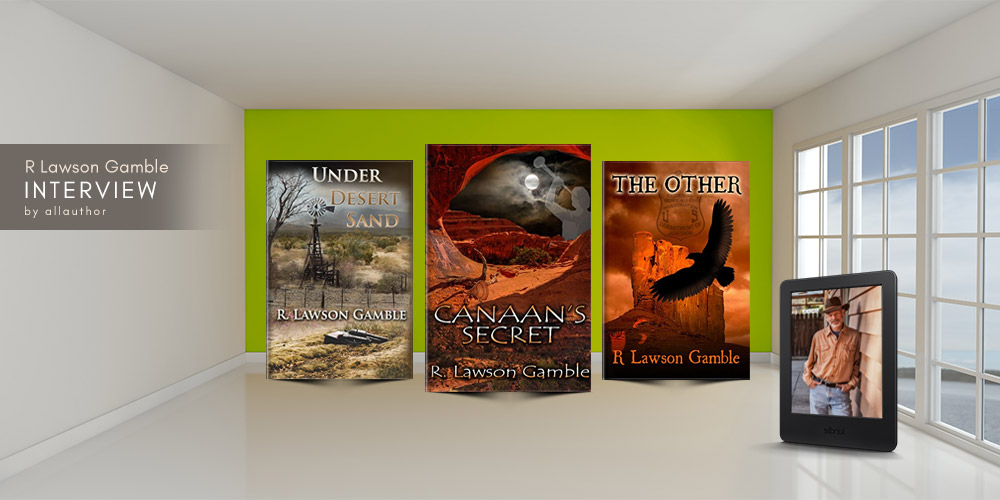 Author R Lawson Gamble spent his childhood in central New Jersey on 50 acres of land with a book in his hand. Read full interview...
If you are looking for exciting crime mystery with a touch of paranormal, you have come to the right place. See my Zack Tolliver, FBI series page or find it here.
NEW: WESTERN JUSTICE, a collection of three novellas featuring novellas by Felix Giordano, Mark Reps, and a new work by R Lawson Gamble (a prequel to the Zack Tolliver, FBI series) is now FREE on Amazon. Go to the R Lawson Gamble Amazon page.
CANAAN'S SECRET! You will want to read this book! Find it here at Amazon.com. Native American mysticism, Mormon fundamentalism, and murder – a murky soup for Zack and Eagle Feather––an exciting read for you! Now playing! …er, Reading!
NEW!
Producer John McLoughlin narrates CANAAN'S SECRET . As you shall see, he has a most pleasant and expressive voice. I have listened to his work on the first two chapters and am most pleased.

MORE NEWS! A familiar voice to Audible Zack Tolliver, FBI mysteries listeners is back! Thomas Block has agreed to produce our first (and favorite) volume, THE OTHER. Purchase it now.
The Author on Radio!
R Lawson Gamble interview on Hometown Radio on the Dave Congalton Show – 920 KEVC: Listen here
R Lawson Gamble interviewed by Barbara Hodges on No Limits Radio (Red River Radio): Listen here
The Author on Television!
The Invitation au Voyage episode about Salomon Pico shot in Santa Barbara and Los Alamos featuring this author aired on ARTE in France and Germany on May 14 at 14:30! You can watch it! (How's your French?)
Visit R Lawson Gamble's Author Page on AllAuthor
Be sure to like R Lawson Gamble's Author Page on Facebook
Visit R Lawson Gamble's author page at Amazon.com
Visit R Lawson Gamble's UK author page at Amazon.com./UK
Enjoy this review of PAYU'S JOURNEY AT Dogpatch Press.

Member Western Writers of America, Santa Barbara Corral of Westerners, Santa Maria Historical Society,
SaveSave
SaveSave
SaveSave
SaveSave
SaveSave
SaveSave
SaveSave
SaveSave
SaveSave
SaveSave
SaveSave
SaveSave
SaveSave
SaveSave
SaveSave
SaveSave