Welcome.
Here's What's New!
A Special Sale of Canaan's Secret on Amazon is happening Sunday, February 17. This is the first day and lowest price of the novel (#6 in the Zack Tolliver, FBI series) of a Countdown Promotion. Be sure to take advantage.
Look for a special surprise in the final pages of our new e-book prequel THE DARK ROAD, now for sale at Amazon. It is an excerpt of LAS CRUCES, book #7 in the Zack Tolliver, FBI series, expected April 1.
Narrator Thomas Block has completed the audiobook of THE OTHER and you can have it FREE. This is the first book in the Zack Tolliver, FBI series and special to me. I know you will enjoy it. We've arranged for you to read it on trial with ACX for 30 days. At the end of that time you are free to decline membership. Click Here!
I'll be at the Corner House Cafe in Los Olivos on February 2 at 11 AM selling books, listening to performers, eyeing work of local artists, and watching for groundhogs. Join me.
Our own local Art-Deco hostelry, the Skyview, has ordered another 40 Los Alamos Valley books from us. I love the way this establishment is integrating with the town of Los Alamos. You can borrow a bicycle to ride down the hill into town and read all about the historic buildings (don't do both at the same time).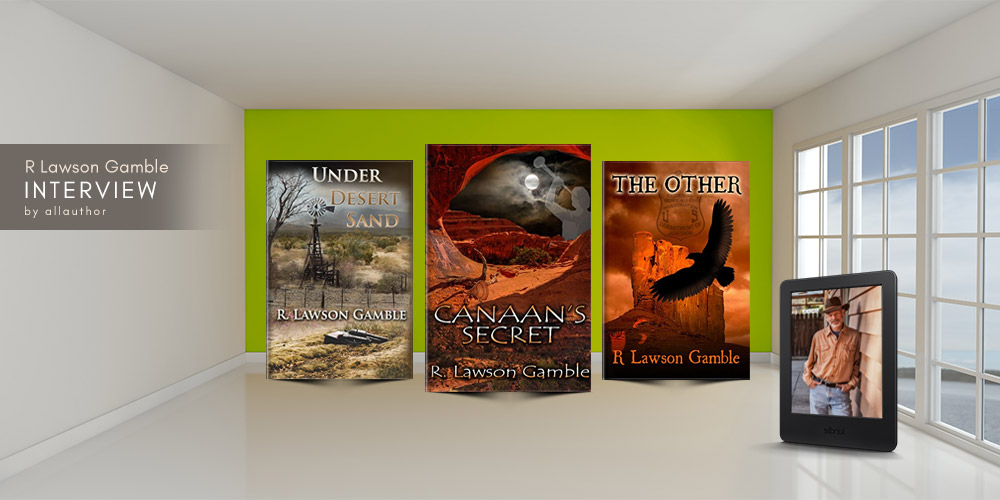 Author R Lawson Gamble spent his childhood in central New Jersey on 50 acres of land with a book in his hand. It was not until 2011 after two prior careers he took up writing. The first book he ever wrote was THE OTHER which was published in 2013. The author finds writing fiction more enjoyable than reading it. He does not emphasize physical appearance when introducing his characters. R Lawson Gamble is an ardent historian and recently appeared in a documentary on Invitation Au Voyage for ARTE Europe. Read full interview...
If you are looking for exciting crime mystery with a touch of paranormal, you have come to the right place. See my Zack Tolliver, FBI series page or find it here.
NEW: WESTERN JUSTICE, a collection of three novellas featuring novellas by Felix Giordano, Mark Reps, and a new work by R Lawson Gamble (a prequel to the Zack Tolliver, FBI series) is now FREE on Amazon. Go to the R Lawson Gamble Amazon page.
CANAAN'S SECRET! You will want to read this book! Find it here at Amazon.com. Native American mysticism, Mormon fundamentalism, and murder – a murky soup for Zack and Eagle Feather––an exciting read for you! Now playing! …er, Reading!
NEW!
Producer John McLoughlin narrates CANAAN'S SECRET . As you shall see, he has a most pleasant and expressive voice. I have listened to his work on the first two chapters and am most pleased.

MORE NEWS! A familiar voice to Audible Zack Tolliver, FBI mysteries listeners is back! Thomas Block has agreed to produce our first (and favorite) volume, THE OTHER. Purchase it now.
The Author on Radio!
R Lawson Gamble interview on Hometown Radio on the Dave Congalton Show – 920 KEVC: Listen here
R Lawson Gamble interviewed by Barbara Hodges on No Limits Radio (Red River Radio): Listen here
The Author on Television!
The Invitation au Voyage episode about Salomon Pico shot in Santa Barbara and Los Alamos featuring this author aired on ARTE in France and Germany on May 14 at 14:30! You can watch it! (How's your French?)
Visit R Lawson Gamble's Author Page on AllAuthor
Be sure to like R Lawson Gamble's Author Page on Facebook
Visit R Lawson Gamble's author page at Amazon.com
Visit R Lawson Gamble's UK author page at Amazon.com./UK
Enjoy this review of PAYU'S JOURNEY AT Dogpatch Press.

Member Western Writers of America, Santa Barbara Corral of Westerners, Santa Maria Historical Society,
SaveSave
SaveSave
SaveSave
SaveSave
SaveSave
SaveSave
SaveSave
SaveSave
SaveSave
SaveSave
SaveSave
SaveSave
SaveSave
SaveSave
SaveSave
SaveSave