Welcome.
LAS CRUCES, Zack Tolliver, FBI book #7 is NOW available at Amazon.com. The paperback version is also now available! Get yours now.
LAS CRUCES is a riveting story springing from an actual cruel and ironic incident that ended the lives of two American pioneers whose adventurous careers constitute a book in itself. Perhaps, one day.
Read Cover Reveal for a preview of the novel's back page and preface and the first look at the book's cover, the work of cover artist Krysta Lynn who once again perfectly captures the essence of the content that lies between.
Special News! CANAAN"S SECRET has been nominated by TopShelf Magazine for entry into their 2019 TopShelf Indie Book Award. We're keeping our fingers crossed for success in September. YOU CAN HELP with your review on Amazon.com.

New Summer Events
☛R Lawson Gamble will be a featured author at "An Evening With Authors"
TALLEY VINEYARDS SUNDAY SEPTEMBER 8, 2019 5:30 – 7:30PM
☛Join us for a reading of excerpts from ZACA at (yes) Zaca Mesa Winery on Sunday, September 22 at 11 AM (here). The event is $5 (which includes a glass of wine!). We will be down in the shade of the tree in front of the barn. Enjoy fabulous wine and listen to the author read from his own book while the breezes stir your imagination.
If you haven't visited in a while you will notice a new page and new feature, Trail Running. I enjoy learning about the areas I visit by running the trails I often find there. One can gain an intimate sense of the locality this way. I will update the page with additional photos and brief notes from time to time. I'd love your comments/observations on the photos.
Our own local Art-Deco hostelry, the Skyview, has ordered another 40 Los Alamos Valley books from us. I love the way this establishment is integrating with the town of Los Alamos. You can borrow a bicycle to ride down the hill into town and read all about the historic buildings (don't do both at the same time).
We are also supplying Los Alamos Valley to the Depot Mall. It is prominently displayed at the cashier's counter.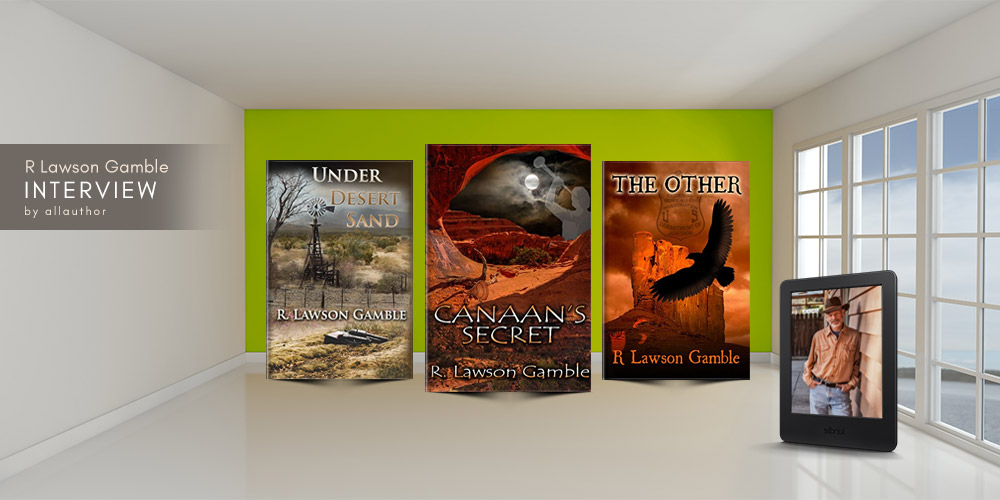 Author R Lawson Gamble spent his childhood in central New Jersey on 50 acres of land with a book in his hand. Read full interview...
If you are looking for exciting crime mystery with a touch of paranormal, you have come to the right place. See my Zack Tolliver, FBI series page or find it here.
NEW: WESTERN JUSTICE, a collection of three novellas featuring novellas by Felix Giordano, Mark Reps, and a new work by R Lawson Gamble (a prequel to the Zack Tolliver, FBI series) is now FREE on Amazon. Go to the R Lawson Gamble Amazon page.
CANAAN'S SECRET! You will want to read this book! Find it here at Amazon.com. Native American mysticism, Mormon fundamentalism, and murder – a murky soup for Zack and Eagle Feather––an exciting read for you! Now playing! …er, Reading!
NEW!
Producer John McLoughlin narrates CANAAN'S SECRET . As you shall see, he has a most pleasant and expressive voice. I have listened to his work on the first two chapters and am most pleased.

MORE NEWS! A familiar voice to Audible Zack Tolliver, FBI mysteries listeners is back! Thomas Block has agreed to produce our first (and favorite) volume, THE OTHER. Purchase it now.
The Author on Radio!
R Lawson Gamble interview on Hometown Radio on the Dave Congalton Show – 920 KEVC: Listen here
R Lawson Gamble interviewed by Barbara Hodges on No Limits Radio (Red River Radio): Listen here
The Author on Television!
The Invitation au Voyage episode about Salomon Pico shot in Santa Barbara and Los Alamos featuring this author aired on ARTE in France and Germany on May 14 at 14:30! You can watch it! (How's your French?)
Visit R Lawson Gamble's Author Page on AllAuthor
Be sure to like R Lawson Gamble's Author Page on Facebook
Visit R Lawson Gamble's author page at Amazon.com
Visit R Lawson Gamble's UK author page at Amazon.com./UK
Enjoy this review of PAYU'S JOURNEY AT Dogpatch Press.

Member Western Writers of America, Santa Barbara Corral of Westerners, Santa Maria Historical Society,
SaveSave
SaveSave
SaveSave
SaveSave
SaveSave
SaveSave
SaveSave
SaveSave
SaveSave
SaveSave
SaveSave
SaveSave
SaveSave
SaveSave
SaveSave
SaveSave